Aloha! We are a husband-wife boutique style wedding and portrait photography team based in beautiful Kailua, Oahu. We photograph weddings and lifestyle portrait sessions, including engagements, maternity, seniors, children and family portraits.  We take advantage of Hawaii's beautiful locations when shooting lifestyle sessions using natural light.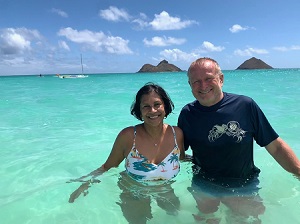 We met at the University of Hawaii at Manoa, got hitched and have two sons. We love Hawaii but we don't mind leaving paradise once in a while to photograph destination weddings.
Richard: When I'm not photographing weddings, I'm on the lookout for killer asteroids that are heading toward Earth. I'm an astronomer and astrophotographer at the University of Hawaii at Manoa.
Shiyana: I'm the second photographer at weddings. I have three full time positions: Mom, post-production editor, and honey mixologist at Kailua Honey.
We only accept a limited number of weddings each year because we want our clients to receive exceptional service. Whenever possible, we get to know our clients on a personal level and we customize our packages to fit their needs. We have been blessed with the BEST clients who are now our friends. We hope you will also become a friend. Connect us by email (photos@ainakai.com) or let's meet to chat about life and love. If you don't live on Oahu, we can talk by phone (+1-808-741-4805) or by zoom.
Richard & Shiyana Wainscoat